Kai has passed his Hearing Dogs accreditation!
He is now officially a hearing dog and can wear his burgundy coat with pride. Here is an update we received:
The next step is to find a suitable deaf partner for him. We have someone in mind, but because of Coronavirus, we need to work out a new way to introduce Kai to this person and plan their first weeks together. This important time is usually spent under close supervision by a Hearing Dogs trainer, where they go through everything the deaf person should know about, such as feeding, grooming, and shopping. This involves visiting their home, to make sure everything goes smoothly. During lockdown and social distancing, this just wasn't possible. So, until we can do this, we thought you'd like to know more about the skills Kai demonstrated to gain the honour of wearing a Hearing Dogs coat…
A soundwork superstar
This is the practical way in which Kai will help his deaf partner: recognising an important sound, and telling them by nudging them with his nose.
Trainer Lauren is thrilled with his soundwork. She tells us: "He has a very strong nudge and is very persistent – even if it means running up or down stairs to find you! So, his deaf partner will certainly know when he alerts them." "His favourite sound is the portable cooker timer, where he scored an impressive five out of five when we tested him!" Clever Kai!
Hustle and bustle
We want to be sure Kai is happy in busy places. Supermarkets, high streets, shops… these are all places with strange sights, sounds and smells for a dog, but they're also places his deaf partner will want to visit. So, was any of this a problem for Kai? Lauren laughs. "Not at all! During lockdowns, his volunteer trainers Chris and Kay did lots of practice walking around their local town while adhering to social distancing, to keep his training going. When more shops were able to open and areas became busier, he was still relaxed and comfortable in all of them."
Hi Kai!
Lauren also gives Kai full marks for his 'recall'. This is the way in which our dogs come back as soon as they are called, by voice or whistle, no matter where they are, in parks, public fields or woodland. It's essential: it means Kai's eventual deaf partner will know he will never leave them on their own.
This would appear to be something in Kai's basic nature. Back to Lauren: "He has always been very good off-lead and never wanders off too far. He also enjoys a good run-around with other dogs when he gets the chance!" We love this. It shows both sides of Kai. When he's 'at work', he'll be looking after his deaf partner. But having such a playful pal around will also help his deaf partner emotionally by brightening up their day, every day.
Lovely to meet you
We need to know that Kai is well-behaved in all situations, and especially when meeting people. So, it's great that Lauren thinks he's also brilliant at this!
"Kai is a very sociable dog who loves meeting and greeting anyone, whether human or animal. This is because, throughout his life, he's been introduced to so many other dogs, cats, people, places and so on. He particularly likes cats! Although curious to greet them at times he is always very gentle and settles nicely with them."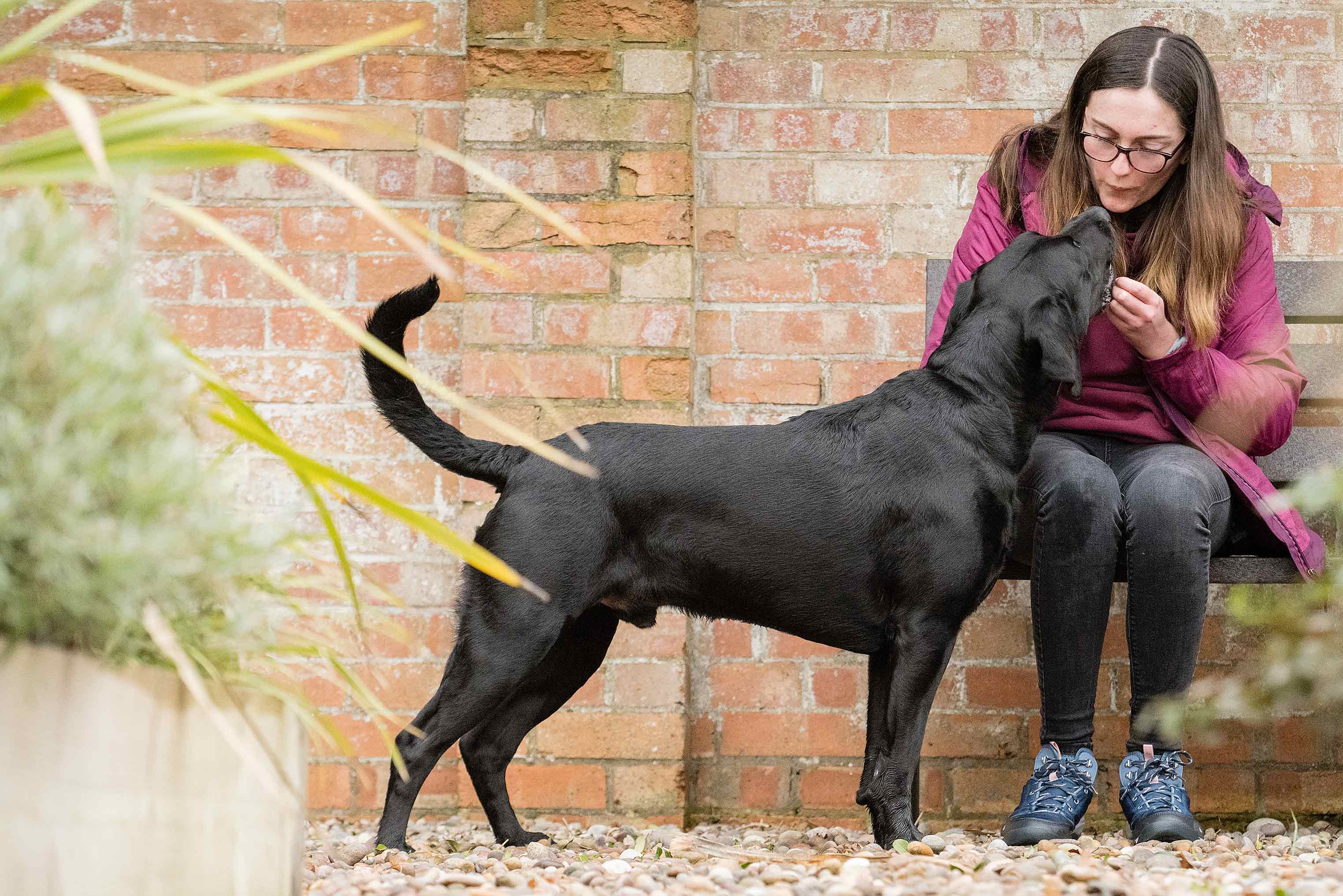 Any more for any more?
These are just some of the tests we gave Kai. We also assessed how well he allows himself to be groomed, checked by the vet, and – specific to the current time – how he coped around people wearing facial coverings. None of this was a problem for hero hearing dog Kai!
We're so pleased for Kai. He's been such a great dog, adapting to the challenges of lockdown and social distancing with a little help from Kay, Chris and Lauren. To have passed with flying colours at any time is impressive. To have done so during the pandemic is amazing. And of course, Kai wouldn't have come this far without your kindness in supporting him.